It's THE time to escape the Earth. Player-controlled and player-owned Universe awaits.
---
Farsite intends to be the space MMO for the new age. And with such grand ambitions, it's time we have a closer look into the game – including the good and the potentially ugly parts.
Without further ado, let's dive into the Farsite universe!
The Game
Farsite is a blockchain-powered MMO game with play-to-earn capabilities. Pre-alpha release for the game is scheduled for Q4 of this year and already it is often compared to Alien Worlds – sharing attributes such as real-time strategy, adventure, and space exploration.
The game will run on the Ethereum blockchain, and as part of a functioning economy, it will have its own tokens (FAR) which players can use to buy game credits, resources, and materials.
When you log in, Farsite takes you to a hangar, which is presumed to be in the "Homestead" constellation. It's the starting point for new players out there – and if it follows the patterns of existing space MMOs, we can presume it to be a relatively safe space. Here, players are also able to view ships owned by others.
At this point in time, many players have already brought plots of explored land within the Farsite universe. While these plots are currently dormant, in the future, they will play a critical role in the in-game economy.
The Good

Farsite's spaceship designs look amazing, to be honest. That's always a plus.
Also, the idea of a game that does not focus on the economy but rather on the experience itself opens up a whole spectrum of possibilities. Given the fact that there's already a preview of an advertising board this early, one can see the potential for different crossovers moving forward.
The interface contains a lot of the necessary information needed for one to gain a good grasp of the game. This is very helpful, considering space MMOs are notorious for their harsh learning curves.
The proof of concept and the visuals are absolutely stunning to look at.
Most importantly, they are trying to slowly build a loyal and engaged community. If they manage to replicate even a tiny fraction of the success that other space MMOs enjoy, then this would be a huge win for the project overall.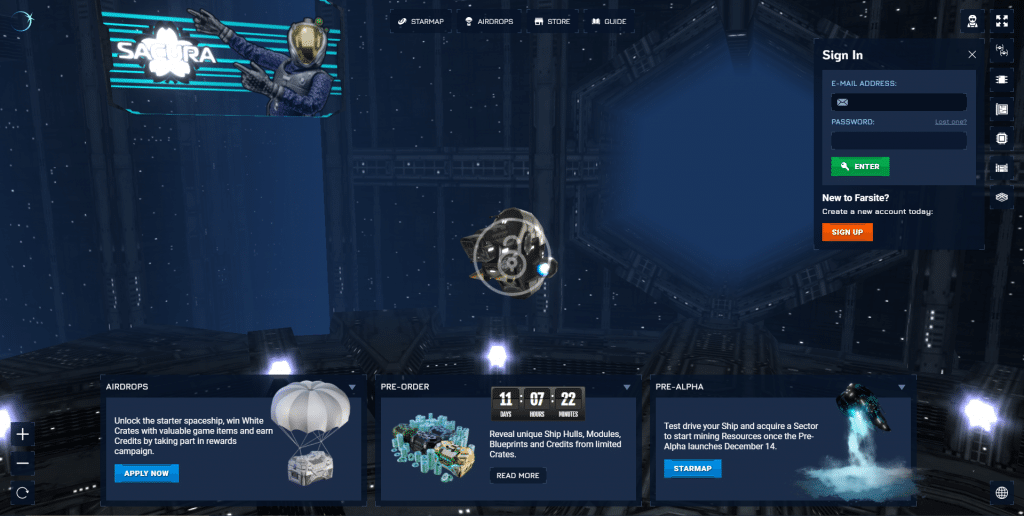 The Ugly
First of all, there is no current game. In addition to this, the interface needs an overhaul when it comes to its responsiveness and readability. Since this is a pre-pre-alpha preview of the game itself, we expect it to change in the upcoming days ahead.
A proper functioning game with all features as planned is still a while away. And during this time, we are expecting the game to release additional NFTs, a trading marketplace, and more. It's difficult to predict how these things will progress and take shape.
The Takedown
Farsite doesn't yet have the bare basics of a game at the time of writing. Instead, prospective players are treated to a minimal preview of the initial in-game universe. However, it's clear Farsite has already attracted a fairly active community. The number of players coming in per day is steady and their Discord is quite active.
Farsite intends to start its pre-order phase on December 2 and release its pre-alpha build on December 14. Two major milestones for the game are about to happen very soon.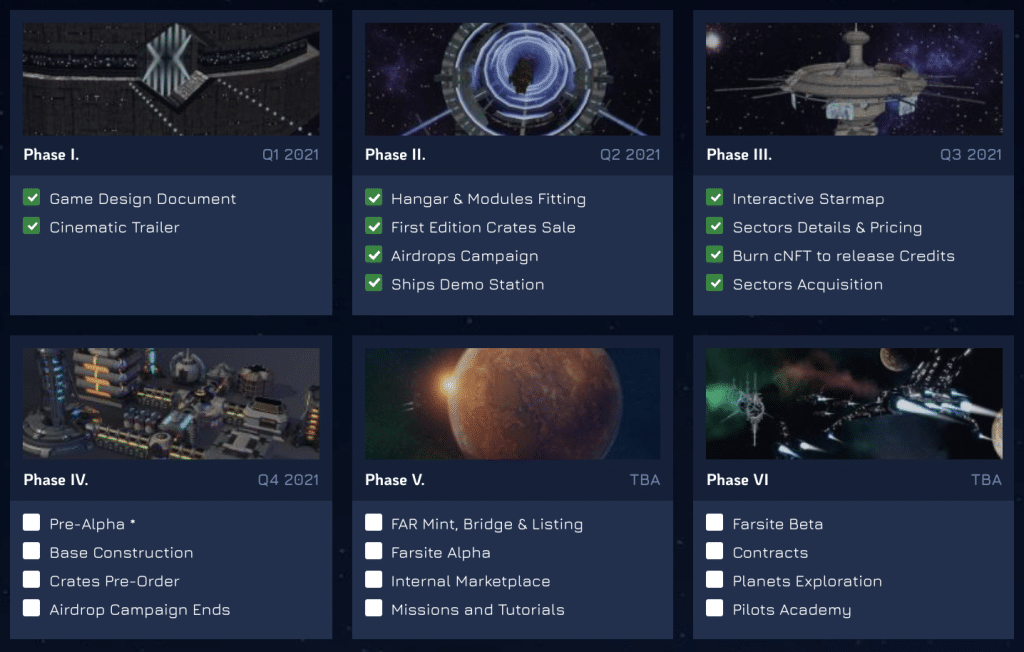 While not much is publicly known about the developers (this is always one of the trickiest parts of projects in the space), the fact is that they're actually spending time to create a community and incrementally introduce their game features slowly. The developers appear committed to turning Farsite into a playable game in the long run.
They have also openly stated in their roadmap that this game is not supposed to be an investment platform and that it's supposed to be a game by itself, with NFTs and economies being only the cherry on the top. It's refreshing to see that they already have set a direction for the game while it's still being developed.